An international initiative to connect leading foreign policy institutes from around the world in a dialogue on issues of global governance and multilateral cooperation.
Overview
The Council of Councils website is a subsite of main CFR site (https://www.cfr.org/) and holds all the information related to the Council of Councils.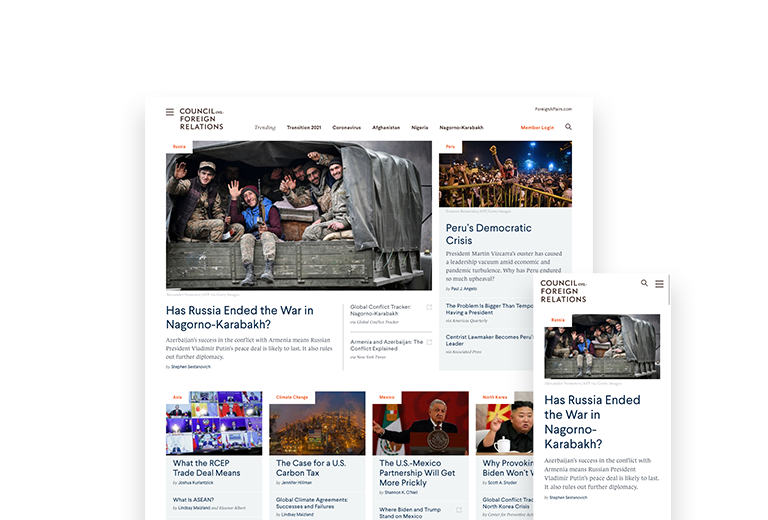 Goals
The Goal was to redo the old Council of Councils website in Drupal from a non Drupal platform. Also to apply a new responsive design and migrate the content from the old site to Drupal.
Challenges
Some hurdles we faced were getting used to CFR process, adhering to a tight deadline and challenges with the design.
Solutions
Since this was one of our first projects for CFR client we were new to some of their processes such as code review and deployments process therefore we had to work with our main team. Also, we had to get adjusted to the code standards. However, the team put in a lot of additional time and had multiple calls with the main team to understand the things and did not let it be an obstacle in making the tight deadline

We had a short timeline to finish the project as we initially took some time to get adjusted to the process. But the team put additional efforts on weekends and even on holidays to achieve the deadline for launching the site.

There were some challenges with the designs received from client as the development team had to handle some things specifically for desktop and mobile. But again it was the team bonding and dedication that assissted in achieving the goals that helped us make important decisions to solve the issue.
Results
In the end were able to deliver the website to the client as expected in spite of multiple problems. It helped us gain the trust of the client to continue doing more projects for them. The site has been running smoothly ever since it went live.